AHMEDABAD: A raging question in the Covid-19 pandemic — just how many persons does a coronavirus infected person come in contact with and how many of them get infected?
A study of 1,817 lab-confirmed Covid-19 cases in Ahmedabad district revealed that they cumulatively came into contact of 9,671 persons – averaging 5.3 persons per case. Out of 9,671 contacts traced, 1,159 were reported infected, giving the secondary attack rate (SAR) of 12%.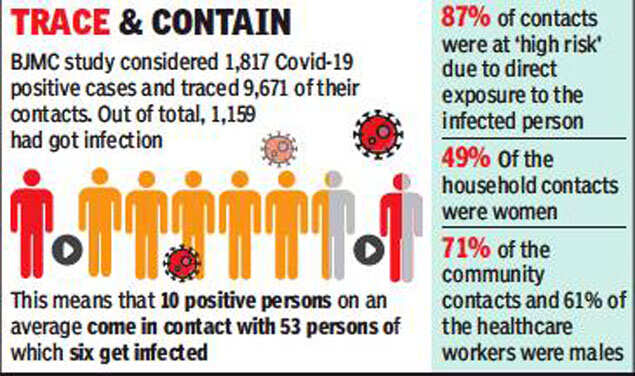 The findings which underscore the importance of contact tracing and profile of the contacts in Covid-19 pandemic was published in a paper 'Contact Tracing During Covid-19 pandemic: Ahmedabad Rural' in IJDMSR journal recently.

Study shows more transmission among household contacts
The study took into consideration the cases recorded from March 20 to August 31. The primary positive cases included 1,275 males and 542 females. Majority cases were in the age group of 21 to 50 years, indicating a working population. Majority of the cases traced were household contacts (79%), followed by community contacts (18%), healthcare contacts (1.5%) and others (1.5%). Among the contacts, 55% were males.
"While overall SAR was 12%, the household contact SAR was found to be 11%. The study showed higher transmission among household contacts," said Dr Hetal Patel, a third-year resident doctor at the department and co-author of the study.
Apart from Dr Hely, other authors of the paper include Dr Rajshree Bhatt, Dr Hetal Patel, Dr Shalini Singh, and Dr Devang Raval from the Department of Community Medicine of the BJ Medical College.
The study pointed out factors such as lack of social distancing and not wearing a mask at home even when a person was found positive as the reason for the phenomenon.
While the study was based in talukas of Dholka, Sanand, Dascroi, Viramgam, Bavla, Dhandhuka, Mandal, Detroj and Dholera of Ahmedabad district, the findings also resonated in Ahmedabad city recently when several of the families had more than one member hospitalized or down with infection in the surge in cases post Diwali festivities.
To put the findings in context, a study in China had reported SAR of 11.2% among household contacts and overall 6%, whereas an earlier study by ICMR had revealed overall SAR of 6%.
Dr Raval, head of the Department of Community Medicine, said that contact tracing is of utmost importance in the pandemic like Covid-19 to arrest its spread.