NEW DELHI: Within the past 11 days, the number of containment zones in the capital has reduced by nearly 1,500 owing to the sharp decline in Covid-19 cases. This means that fewer areas are under Covid-related restrictions and all economic activities can be restarted as there is no bar on the movement of people.
On December 13, there were 1,629 risk zones, which declined to 1,136 by December 24. The largest decline was witnessed in Southwest district where 493 containment zones were desealed. In West district, 61 containment zones were desealed reducing their numbers from 494 to 433 within this period.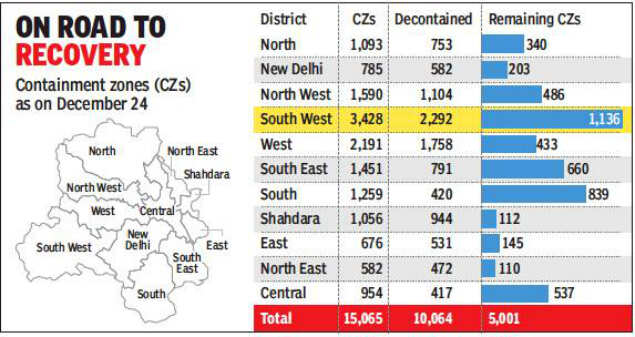 The scaling down of containment zones starts 14 days after no Covid-positive cases are reported, but surveillance of the area continues for 28 days.
Across all 11 districts, so far over 15,000 containment zones have been created since the outbreak of the pandemic. The first containment zone was made in Shahdara district, followed by East Delhi. Over 10,000 red zones have been desealed till date after successful implementation of the containment and mitigation plan, while 5,000 continue to remain active.
The highest rise in the number of containment zones was witnessed during the peak of the three Covid waves. In November, when the number of Covid-19 cases in a single day touched 8,500, 200-300 new containment zones were created in a day. In all, 14,700 zones were created after June 21 when the city witnessed the peak of the first Covid wave with the government revising its containment strategy.
After the lockdown was lifted, the government shifted its focus on creation of containment zones to ensure that the infection didn't spread out of the sealed areas. At first, creation of containment zones used to cause panic among residents and those living in nearby areas. However, people soon started becoming familiar with the restrictions.
Initially, the containment zones were huge, some of them having more than 40,000 people living within a single one. The authorities faced multiple challenges in managing the zones and drones and central paramilitary forces had to be deployed. However, over the past few months, micro-containment zones have been created. In some cases, only one house or a couple of houses or flats sharing a common corridor were sealed. This resulted in less inconvenience to people.
In containment zones, all essentials items, like grocery, vegetables and medicines, are provided through home delivery by government-monitored agencies and vendors.